So who did you choose? The all-seeing Council? The noble United? The unconventional Faceless? Or are you for the bloodthirsty Warband? Every house has its own distinct personality, its own striking appearance, and its own champion. One thing it doesn't have just yet, though, is its own canonical uniform. That's where you come in.
Stand up for your house
Every house needs its own look—and we want you to design it. We're challenging UK League of Legends players to rep your house in style by designing a suitable uniform, then posting it to social media with the hashtag #midseasonties. Twitter, Insta, Facebook—put it wherever you like, we'll be watching.
Here's Kiandymundi with an overview. Read on for more specifics.
If you're a cosplayer and want to design a full costume, go for it! If you prefer to get your ideas down on paper, then get out your pencils, paints or whatever you like, and get scribbling! Or maybe you've got a Jinx Unlocked statue sitting on your shelf that you think could do with a makeover? Go ahead and dress her up!
Just show us your creativity, your imagination, and most importantly show us what your house really stands for, and we'll feature the very best entries on the UK League of Legends Twitter, Facebook, Instagram and YouTube accounts, and maybe even in the League of Legends game client too.
That's not much of a prize, though, is it? That brings us to our hashtag: #midseasonties.
What you can win
Anyone in the UK who has, uh, enjoyed (or perhaps still enjoys) the British education system will know that one of the few small pleasures of the experience is that we get to wear some pretty badass uniforms. And then we get to draw all over them on the last day.
The school tie is a particular staple, so when we were looking for ways to celebrate our Mid-Season Trials uniform competition, we figured a tie was in order. That's why we'll be contacting the creators of the best #midseasonties creations to send them an exclusive, never-to-be-made-again Mid-Season Trials swag bundle, containing a house tie, iron-on transfer and a metal house crest pin, all wrapped up in a custom presentation box bearing your house insignia.
Here's a sneak preview: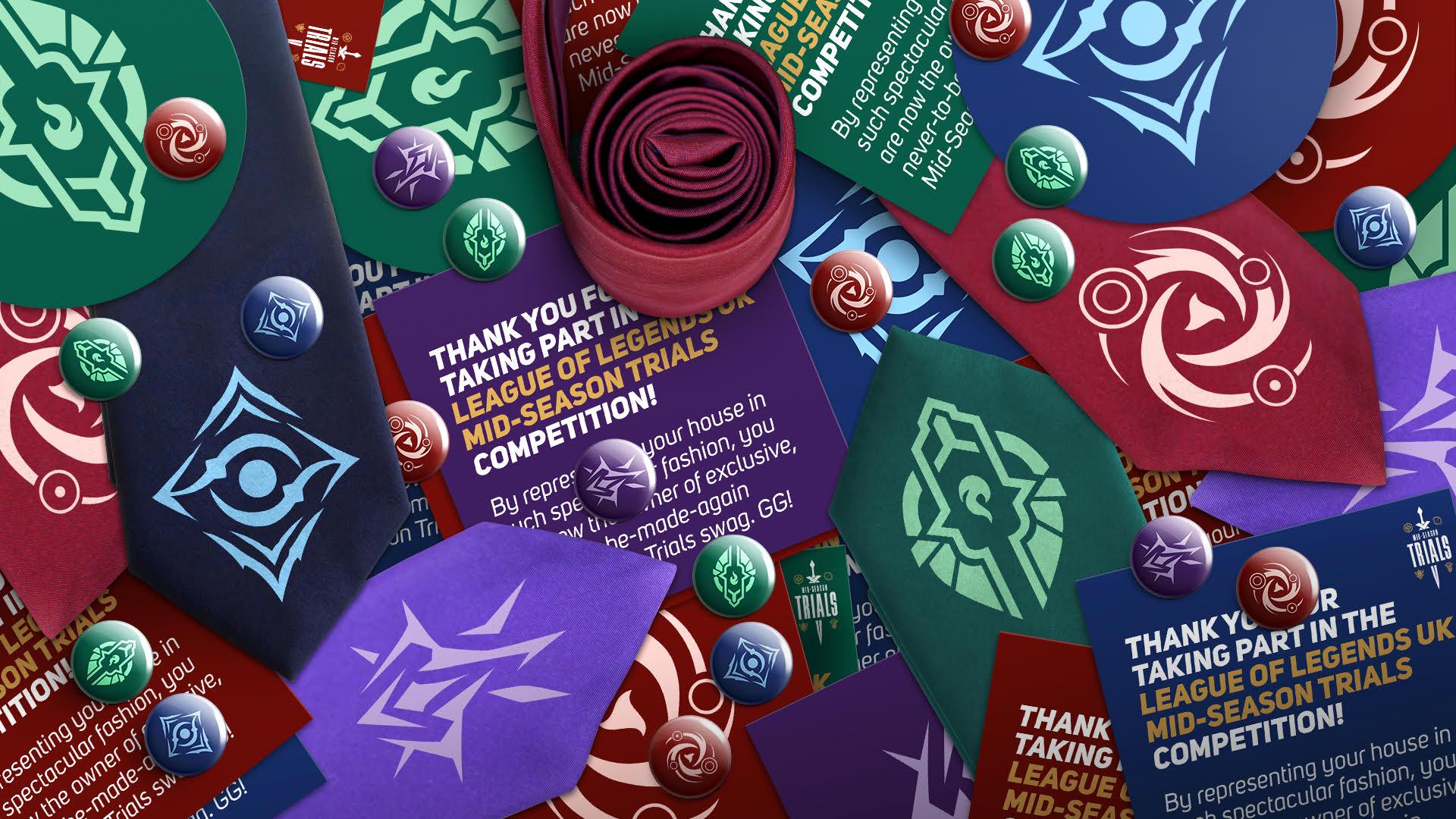 We're also sending a few of these out to League Partners who rep particular houses, so keep an eye on their content and channels for unboxings.
If you like what you see, then make sure you figure out your outfit soon! We are accepting entries until Saturday, May 18. Good luck.
Creative inspiration
Aaand if you're looking for some direction on how to come up with a perfect house uniform, then check out the full Mid-Season Trials trailer below, as well as the individual faction videos for more. We'll also be sharing some early efforts from League Partners on our channel all week, so stay tuned. GL HF!